Murder Mystery Dinner Cruises

Click HERE to purchase tickets!
---
Due to the Covid-19 pandemic, our murder mystery cruises have been postponed until further notice. This announcement comes with heavy hearts, but we're excited for the future when we can re-start this fun activity again! In replacement of the Murder mystery cruises, we will have entertainment cruises with music, food, and special entertainment!
---
It's a classic "WHODUNNIT?!" in these ever-popular dinner cruises aboard The Pride of the Susquehanna! Your nights will never be the same after tasting this wonderful balance of delicious intrigue!
We have joined with JR Entertainment to bring you a line of dinner cruises that will thrill you with fun storylines and classic mysteries! Select audience members will be able to join in with the action, and there will be prizes for given away each cruise this summer!
Time:
7:00pm – 9:00pm
The riverboat leaves promptly on time, so we recommend that you arrive half an hour early to board.
Tickets:
Tickets are $54.50, which includes the 2-hour cruise and dinner.
Advance reservations are required for this event.

Dates for 2020:
If any preferred dates are sold out, join our Waiting List for any openings that appear!
Friday, May 8th -( 7:00pm- 9:00pm) – Foul Play
Friday, May 22nd (7:00pm – 9:00pm) – Foul Play
Friday, June 5th (7:00pm – 9:00pm) – Foul Play
Friday, June 19th (7:00pm – 9:00pm) – Foul Play
Friday, July 3rd* (7:30pm – 9:30pm) -Crocodile M
Friday, July 17th (7:00pm – 9:00pm) – Crocodile M
Friday, July 31th (7:00pm – 9:00pm) – Crocodile M
Friday, August 14th (7:00pm – 9:00pm) – Crocodile M
Friday, August 28th (7:00pm – 9:00pm) – Crocodile M
Saturday, September 5th* (7:15pm – 9:15pm) -Murder at the PTA
Saturday, September 12th* (7:00pm – 9:00pm) -Murder at the PTA
Friday, September 25th (7:00pm – 9:00pm) – Murder at the PTA
Friday, October 2nd (7:00pm – 9:00pm) – Murder at the PTA
Friday, October 9th (7:00pm – 9:00pm) -Dead Heat
Friday, October 16th (7:00pm – 9:00pm) – Dead Heat
Friday, October 23rd (7:00pm-9:00pm) – Dead Heat
Friday, October 30th (7:00pm- 9:00pm) Vampire Strikes Back
Saturday, October 31st* (7:00pm- 9:00pm) – Hollow Weenie
Friday, November 6th (7:00pm – 9:00pm) – Dead Heat
Foul Play (1932)
The Chattanooga Chasers are headed to the World Series for the very first time. They are on their way to New York to face the mighty Yankees. Slugger Moose Macker has led the team, and is looking forward to collecting his $10,000 bonus for playing in the World Series. Team owner, H.R. Doubleday, has other ideas, however. Winning isn't nearly as important to Doubleday as saving some dough. Will Moose get to play?
Crocodile "M" For Murder (Current Day)
A shady con man masquerading as a legitimate Australian travel agent is causing trouble for everyone who crosses his path. His shoddy travel packages have already resulted in a newlywed's breakup and a drop in the Australian tourist industry. What's up?
Murder at the PTA (Current Day)
It's once again time for another PTA Meeting at the local high school. As with any PTA Meeting, rumors and controversy surround all the key players as everyone is willing to do just about anything to get what they want. But, as crazy as these meetings can get, surely there won't be, or will there be, murder at the PTA?
Dead Heat (1954)
The election of 1954, has been marred by mudslinging and name calling. The election pits Francis Monroe of the People's Old Obstructionist Party (POOP) against Blythe Jefferson of the Liberty, Independence and Reform (LIAR) Party. The campaign money will be flying, but a political scandal may derail one of the campaigns on the eve of the election.
The Vampire Strikes Back (1976)
In his day, Boris Meyer was the king of monster movies. His portrayal of vampire Count Fangula frightened millions, but in 1951, Meyer could not take the typecasting anymore and retired to a reclusive life at his secluded manor in the Hollywood Hills. In the 25 years since, he emerged only one time, with disastrous results. In 1971, he was behind the wheel of a car that struck and seriously injured a famous Hollywood director. Now, there's word that Boris will make his first public appearance in a quarter-century, as horror fans gather for "Fright Fest '76". Will the demons of Boris Meyer's past come back to haunt him?
---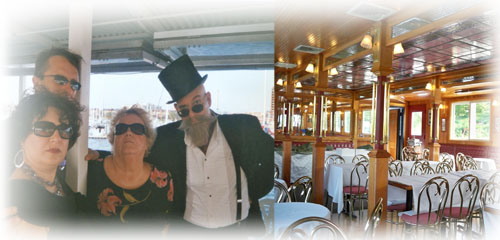 Entree Choices:
Chicken Piccata, topped with lemon-infused cream sauce and parmesan cheese
Maryland-style Crab Cake, golden baked with Japanese panko and sauteed
Stuffed Ricotta Shells pasta with ricotta cheese and a delightful marinara sauce
All dinners come with a salad, sides, and dessert. Coffee, tea, and water are included.
Bar:
There is a cash bar available for our guests, serving top-shelf beer, wine, and cocktails, as well as soda and other non-alcoholic beverages.

Gratuity:
Your voyage price does not include gratuity for our volunteer servers and bartender. If you feel they do an outstanding job, we encourage you to tip accordingly. Your enjoyment is their ultimate goal!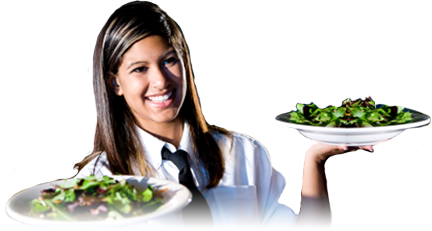 Other Information:
Boarding begins 15 minutes prior to sailing. The riverboat leaves promptly on time.
The Pride is handicapped and wheelchair accessible.
This cruise is for ages 13 and older.
Restrooms are available onboard.
Advanced reservations required.