Blue Crab Feast
We're not yet ready for 2019 reservations–check back soon for dates and times.
Click HERE to be added to our Waiting List so that we can contact you when this event 'goes live!'
---
Imagine!  All-you-would-like Maryland blue crab and delicious sides aboard The Pride of the Susquehanna!  We have partnered with Harbor House Crabs to offer you a cruise that will bring you that much closer to the ocean!  Space is limited for these popular cruises, so book now!
Remember- crabs can be messy, so leave the necktie at home!
Time:
2-hour cruise and dinner:  6:00PM – 8:00PM
Tickets:
2-hour cruise with all-you-would-like blue crabs and corn-on-the-cob for $49.50
Not a fan of crab?  Just ride for the 2-hour cruise for $15.00 (no food or drink included)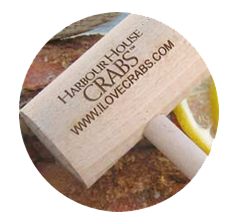 Dates:
Dates for the Blue Crab Feast will be finalized in early 2019.  Check back soon!
Bar:
There is a cash bar available for our guests, serving top-shelf beer, wine, and cocktails, as well as soda and other non-alcoholic beverages.

Grill:
There is an à la carte grill available for our guests, serving snacks, sweets, light entrees, and sandwiches.

Other Information:
Boarding begins 15 minutes before departure.  The riverboat leaves promptly on time.
The Pride is wheelchair and handicapped accessible.
The riverboat sails rain or shine.
Restrooms are available onboard.